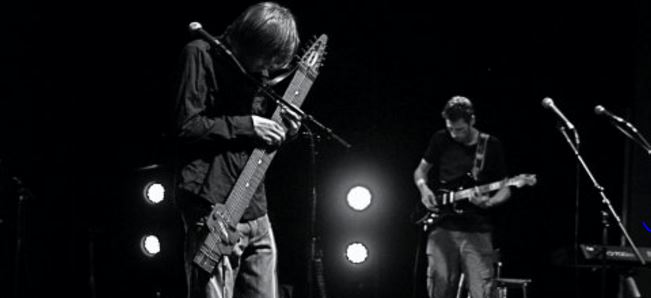 What do you get when you mix prog/rock, pop and jazz/fusion together?..... a band called Pelicans Yard! Musicians for miles around will be singing praises for them and not just because of their stellar musicianship either. Pelican Yards songs are super catchy and packed tight with serious groove! Seriously, if some part of your body doesn`t move to these songs you might just be comatose. Not since the great Tony Levin [Peter Gabriel,King Crimson] has the Chapman Stick got this kind of workout! I asked a couple of questions of their leader George Baldwin and here`s what he said...
  How did you come up with the name Pelicans Yard?
There`s a place near where I live called Pelicans Yard. It`s an old abandoned farm and farmhouse which feels really remote.Taking walks around there helped clear my head and some of the ideas for the album were thought up whilst being there!
  Who are your musical influences?
Sleepytime Gorilla Museum, Zappa, Captain Beefheart, Porcupine Tree, Tool, Dutch Uncles. Jazz influences includes Cannonball Adderley, Coltrane, Ray Russell.
  What was your most memorable show?
We haven`t played a show yet! This is a project created by me to raise money for charity that includes some of my favorite musicians I have worked with over my career that wanted to come together for a great cause!
  What does 2017 have in store for Pelicans Yard?
More online content with music videos, play- throughs and music! Maybe even a gig!
  You can catch up with Pelicans Yard at 
https://www.facebook.com/pelicansyard/
  A great song from their new album is called Seventeen Doors! Check it out!