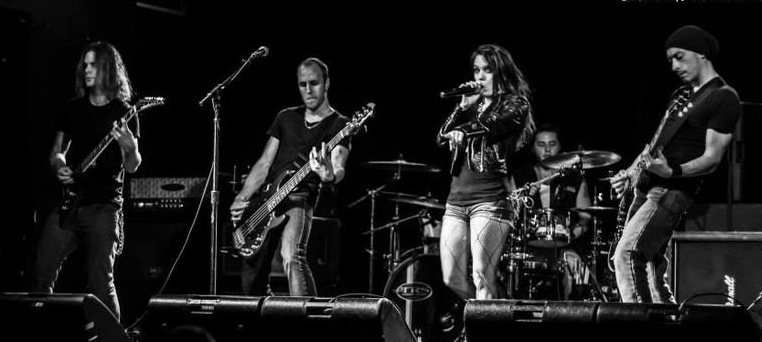 Hailing from the frozen tundra of Canada come`s a band hot enough to melt "Oh, Canada" into a new tropical destination! AFFINITY, led by singer Ashley Curtis along with Mack Flynn on bass and a lot of other musical things, Al Walsh on guitar and Chris Anderson also on guitar have been rocking the Toronto area for the last couple of years! Their 4 song EP came out last year and includes an awesome song called "part Of You"! The EP also includes a killer version of Audio Slave`s "Exploder"! I was able to ask a couple of questions of Ashley and here`s what she said:
 How did the band form?

We were all in the Toronto music scene and first formed the band about six years ago.Mack and I first formed AFFINITY, and then Chris and Al were added to the mix soon after.
 Who writes the songs? 
Songwriting is a collective effort.  Usually someone brings a guitar riff or vocal idea to the band and then together we decide if it`s something worth pursuing.  The actual end product is usually worked out in the jam space, with everyone giving their input.  Sometimes songs are written very quickly and sometimes it takes a little while to get things right.  There`s no one formula really, we just keep the creativity flowing.

 Can we expect a full length album?
Yes, we are currently writing the follow up release to our Consequences Pt 1 EP released last summer (2014).  Lots of new material that we are very proud of coming up this year!
 
 What was your most memorable show? 
That would definitely be playing Bayfest in 2011 in Sarnia. We had the opportunity to open for The Tea Party, Theory of a Deadman and INXS. It was such a crazy day! We got a lot of exposure from that show which was awesome, and the energy you get from playing that huge stage in front of a huge crowd is unreal. It was also my birthday that day so was the best b-day gift ever! We also played this Breast Cancer benefit concert called BarnBurner in Maplton in 2012 and last year [2014]. It`s basically this huge festival type show in the middle of nowhere. And the audience goes absolutely nuts and everyone camps out and it`s just an amazing event. Last summer it was pouring rain out and we still stormed the stage and everyone was right up front with us and having a blast. It was a killer night and one I won`t soon forget. Those are two shows that really stand out for me!
Check out AFFINITY`s latest video!
  

You can also reach them at http://www.affinityband.net/ or https://twitter.com/affinityband