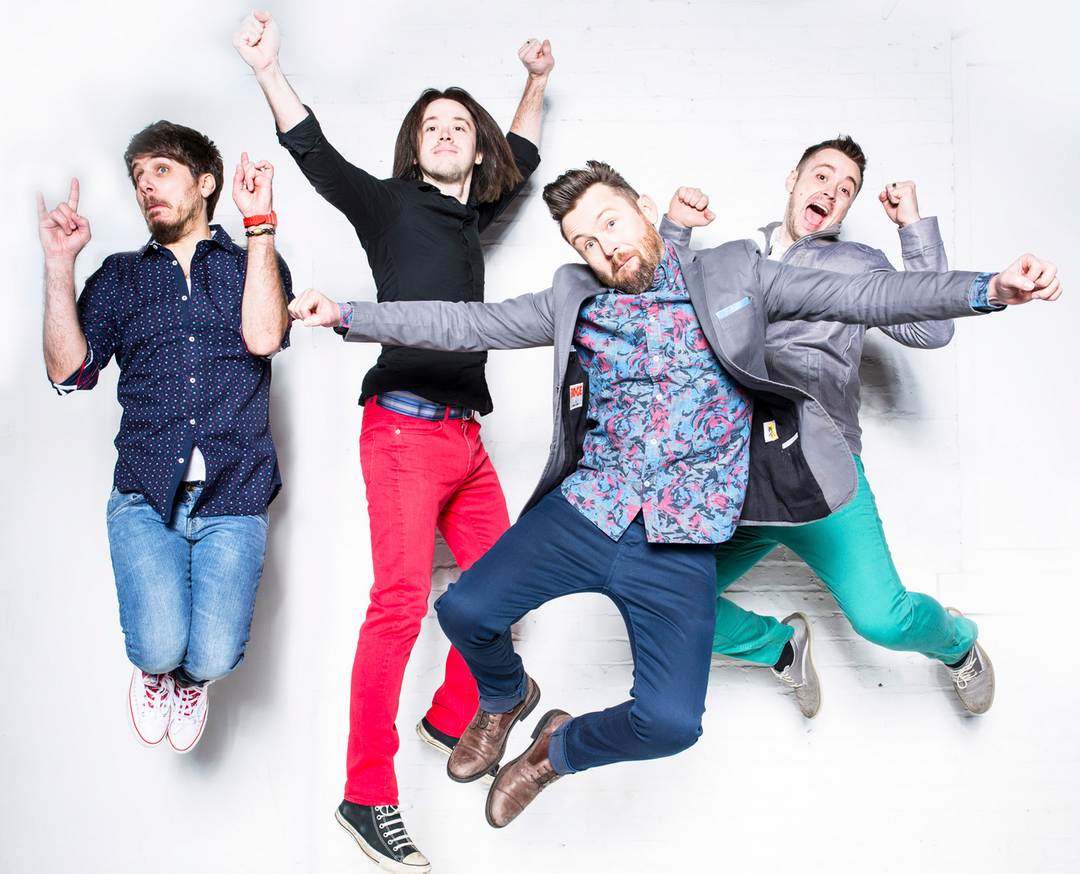 Listening to The Well Reds is kinda like sitting down with your favorite bag of chips... Once you get started, you might not be able to stop!
Their songs are infectious pop-rock that`ll have you humming along in no time! Out of Georgia, the band is Jeremy Ezell on vocals, Torin Degnats on drums,Sean Crawford on guitar and brother Rex Crawford on bass. I recently asked Torin a few questions and here`s what he said... 
 Who started the band and how?
Our singer Jeremy brought the band together to finish up a solo album that he had been working on with producer Dan Hannon (Manchester Orchestra). Jeremy knew brothers Sean (guitar) and Rex (bass) from his time living in Valdosta, and had met me (Torin) at a show at Smith's Olde Bar. Upon finishing Jeremy's solo record we started performing together as Jeremy Ezell and The Well Reds. We became just The Well Reds about a year after that, around the time that we were preparing to record our first collective effort (Violet). 
 Do you have a standard song writing process?
(Please note: I'm only speaking about my personal writing process, Jeremy and Sean also write for the group and their respective processes differ). 
We're actually demoing new material right now, and the current process I've landed on for this round of tunes is as follows: any of the songs I'm submitting to the group I've been personally demoing very thoroughly on my computer, getting the tune to a point where it sounds likes a produced track and is hopefully void of any groove glitches or uncomfortable transitions. I need to able to listen to the entire song (both as a writer and as a listener) and have it make sense and be compelling before I show it to the guys. 
Recently, I've been taking some of these personal demos to each of the guys individually to work on parts and get feedback. My goal is for everyone to have a clear picture of the song and a more intimate understanding of what I'm going for and what they would want to add or change before we tackle it in the rehearsal room as a group. 
If the past is any representation of what will happen once we get to the recording process, some of these tunes will be completely overhauled and some will remain very close to the original demo.
 What do you guys do in your spare time?
Right now everyone is investing a lot of time in getting prepared for the fall shows that we have coming up.  We perform at colleges all over the US, so Sean is working on coming up with new stage elements and medleys to keep it fresh for the students.  Unfortunately all of our gear was stolen this past March while on tour up in New England and while we're almost to the point where everything has been replaced, we're still spending a lot of time individually and collectively working to make sure the sounds and tones of our new instruments are meshing properly. 
 Do you have any new projects underway?
Right now we're still pushing our recently released album Volume. It was recorded with Grammy Award winning producer Joseph Prielozny and has received some really positive local and national press. We've got music videos up for the singles at 
youtube.com/thewellreds
 and all of our music is available for purchase on 
iTunes
, 
Amazon
, and other fine online retailers. As an independent band we always ask that if possible, people buy before they spotify. Streaming revenue is very inconsistent and it takes a lot of hard work and money to keep this operation moving forward as we continue to chase our dreams in hopes of hitting a larger audience.
 There you have it! You can see more of The Well Reds at 
http://www.thewellreds.com/
Here`s their video "Carousels"