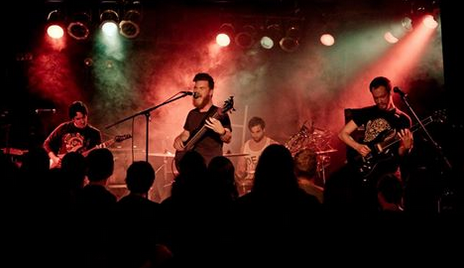 This months band I was almost a little annoyed with at first! After hearing the guitar riff for their song "Storm in a Red Dress" a couple of times it stuck in my head like poo on  shoe! I then realized that this was exactly the trait that any decent band would want to have. I can`t tell you how many times I`ve heard a really good song only to forget it the next day. All kidding aside though, ITPOW is a band of really talented musicians who write really good songs! They`re not just prog/rock riffers either. Their songs are both unique and catchy! I was able to ask Chris the guitarist a couple of questions and here`s what he said...
  Who are your musical influences?
Our biggest influences come from fellow progressive rock/metal bands both old and new. So, artists like King Crimson, Rush, Yes, Porcupine Tree, Mastodon,  and Tool [ among others ] have all had a strong hand in forming our music. However, we are equally influenced by non- prog music and artists such as Incubus, The Police and a large number of jazz fusion acts. Personally I`ve also been very influenced by Pink Floyd and my former guitar teacher Frank Butrey, as well as film scores.
  What is your songwriting process?
Every song has been written in a different manner, So, it`s hard to pin down any singular "process" we`ve used to write. Our earliest material was written by Vini [Stamato, bassist and singer] and I before the rest of the band joined us. Now the process is much more collaborative and typically involves us writing in a room together until we get stuck and become frustrated haha. Then someone breaks through with some new stuff and we`re able to work again. Generally though, our music all starts with a riff.
  What was your most memorable gig?
We`ve had no shortage of memorable gigs so far. But, the one that still sticks out most to me was our first gig at The Legendary Dobbs. It was our second show in Philly and we were booked by Jim Thorpe and Vince Volz of DVT Entertainment, with whom we now work very closely. There was a little bit of buzz from our first two songs and we actually headlined the show. Our name was at the top of the marque which was surreal to see. During and after our performance the response was tremendous and it was the first time that I thought "Hey, we might be on to something" hahaha. Then as we left, it was lightly snowing which was like the cherry on top of an already amazing night. 
  What does the band have planned for the near future?
World domination! We`re working on playing out of our market as much as possible for the near future so that we can set up some future tours. We`re also still promoting our album, Thalassas, and our new music video for our song "Storm In A Red Dress". Finally, we`ve begun writing for our next album and we`re really excited to dig into these new songs.
You can find out more about In The Presence Of Wolves at:
http://www.inthepresenceofwolves.com/
Check out their new video here